A great story about the original Beaver Dam station!
This story was written by Denis Prisbrey whose father built the original Beaver Dam station.
Many thanks to Denis for the story and the pictures. I know many will enjoy.
"We were the first inhabitants of the gas station in Beaver Dam. My Dad built the station in '54 or '55. I'm thinking it was probably '55 since the photos are labeled June of that year. From the pictures, it looks like it may not have been open yet.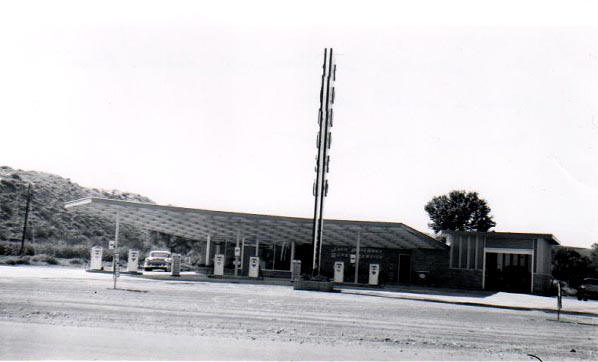 "My Dad ran the gas station and we lived in the back. I remember us going out to look at the station when it was under construction. Dad would hold me up and say 'This is where we are going to live.'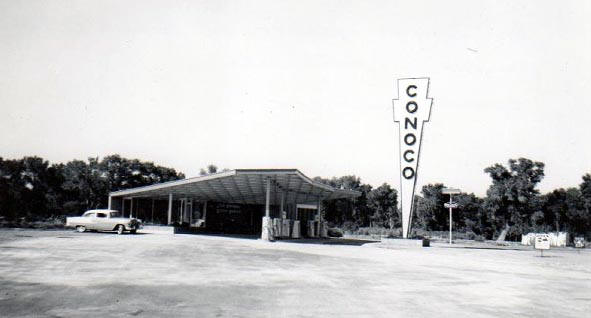 "Conoco had the idea there'd be a huge business from traffic going and coming between LA and Utah. This was long before the route through the gorge on I-15 was ever dreamed of. It turned out not to be as lucrative as expected and I found out years later that it was so bad my Grandpa in St. George had helped out financially in meeting the terms that Conoco required.
"There was nothing but the station on our side of highway. There was a bar across from the station and the lodge to the south was open and running. I remember my dad walking across to the bar now and then when things were slow. I don't know if it was to have a drink or just visit. Dad liked to talk to people and business wasn't exactly booming.
"Dad would take me behind the lodge to fish in the Virgin River. He had a real pole and I had stick with a nail and a piece of string tied to it. I didn't catch anything, but didn't know any better and had a good time anyway. I remember the outside of the lodge with the swimming pool. It was a bustling place in the mid '50's.
"I was born in '52 and could not have been more than 3 years old when we moved in. I recall quite a few things about the place, even at that young age.
"We had a small lawn behind the south end of the station. Because of the heat, Dad would mow the lawn at night after it had cooled down. That required leaving an outdoor light on that attracted desert toads. Usually, it ended up with Dad mowing toads along with the grass.
"Along with the lawn came the gophers. I can still see Dad on a kitchen chair out by the lawn waiting to 'pop' one with his .22 pistol when it came up.
"One day, Dad came back from somewhere with a local turtle in the back seat of the car. It was on the floorboards jammed under the back of the front seat to keep it from moving about. I played with it a bit until it wandered off into the desert behind the station.
"We had a BIG (well, big to me at age 3) black German Sheppard named Pokey. Pokey was my Mom's adjunct baby sitter; anytime Pokey saw me heading toward the highway in front of the station, he'd push me back if Mom didn't get to me first.
"Some sort of circus truck came through one day and stopped for gas. First elephant I ever saw. Did not smell good…
"On a visit to my Grandparents in St. George, I got to drive the car up the highway north of the bridge for a bit. The old trick of standing on the seat in front of my Dad with my hands on the wheel, "driving" the car.
"Dad had bought a brand new '55 Chevy truck while we were at the station. He was very proud of it and told everybody it had a "Hydramatic transmission"! I had no idea what a Hydramatic transmission was, but it seemed important to him, so I just as proudly announced our truck had a Hydramatic transmission too, whenever the truck was mentioned and he wasn't there to brag on it.
"I vaguely remember the outhouse at the old school in Littlefield. That was a novel experience. A two-holer, I believe. I have no idea why I was there at 3, but the fuzzy memory is still there. First impressions can be strong ones and that was my introduction to the "Great American Little Building Out Behind the Big Building".
"There was an old lady in Littlefield. I don't know how Mom knew her, but I was parked there three or four times to be babysat. I can't bring back her name or her face, but I will never forget how the broken up bread chunks in hot chocolate that she fed me tasted. Could never get Mom to do that "recipe" for me, but the old lady did and I loved it.
"We had the ancestor of the Frisbee. When it was first introduced, it was yellow and called a Pluto Platter. I used to play with it occasionally when it cooled off in the evenings (relatively cool, that is). A buddy of Dad's named Roger, who was a traveling rep of some sort, was playing with us one night and threw it up on top of the canopy. Thought it was gone forever. Did not realize it was possible for a man to climb up there. Roger saved the day by going up after it.
Dad liked to catch and display tarantulas in Mason jars in the station office for the tourists. I knocked one onto the floor one day, the jar broke, the spider started in my direction and I ran outa that office so fast I left a vapor trail!
And I remember Rob Reber. Rob was "200" years old, wore overalls, and would come to visit with Dad. They'd sit in chairs out front under the overhead canopy and drink Coke and talk about this, that and a couple of the others things.
One day I asked for a coke too. Rob solemnly told me Coke was bad for little kids. He said he knew a boy who'd got too much Coke, had to have his stomach removed and replaced with a paper bag. Scared the hell outa me and I wouldn't touch Coke for years after that
I visited Beaver Dam in 1970 and again in 1976. Nothing was open. The building that had the bar was long gone and the station and the lodge were abandoned. I found a small enameled Conoco sign in the bay of the station and took it with me. I still have it. I wandered around the lodge. There was a huge safe lying on its side with the door busted open. Underwear was scattered among some of the rooms and signs of kids and parties. So sad to see.
"I'm trying to talk the wife into a weekend down there. Maybe next Spring before it gets too hot to wander around a bit. I was born in St. George, but gone from the area for most of my life. Too old anymore to take the heat in the summer.
It'd be a kick and a half to sleep in that old lodge. I never got to see the inside when it was running. Dad said several of the old Hollywood crowd would stay there. He got to talk to Gable in St. George once, but he never mentioned anybody by name at Beaver Dam.
Denis Prisbrey
If anyone has information about the history of Beaver Dam or anything that you think would be of interest, please email me with info and pictures that you may have. Also any links where I can download information. Thank you.
Send to monty@beaverdamaz.com